MMO for NES
by on
2014-03-21
(
#127045
)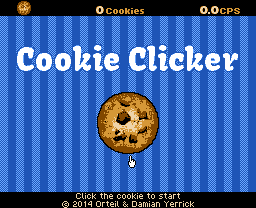 I've got Orteil's OK to make a port of
this
browser game my next project after my compo entry.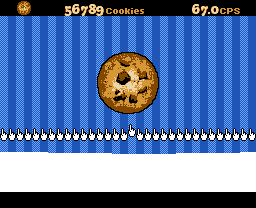 Cursors animated by rewriting 4 tiles of CHR RAM. Click the CPS to buy things that will click the cookie for you.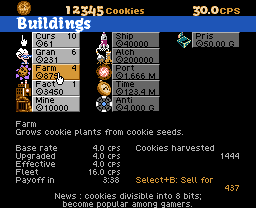 "Payoff time" is one of the few places I'll have to actually use floating point division, where the rest of the game can get away with addition, subtraction, and multiplication.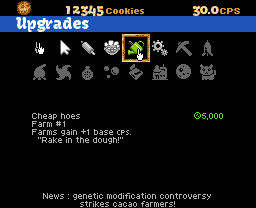 Flashing icons in the corner alert the player to interesting things on another screen. Click the cookie count to return to the Big Cookie screen and find a golden cookie waiting.
I figured that someone would express disbelief about the proportional font even before I started a
thread on the Cookie Clicker board about the port
:
diamond655 wrote:
You are gonna have to really tone down the graphics on the cookie, words, etc. until they look 8-bit!
diamond655 wrote:
This seems amazing, if you tone down the graphics. Remember, NES games are low quality mostly!
On the other hand, someone else recognized the plausibility:
Cookiewoodstock wrote:
I also really enjoy the details in this image. Sprites of the NES can only have 3 colors, something shown here. They are also all made of 8x8 tiles, and you can fit all of these with no issues in that.