Progress Thread - Filthy Kitchen
by on
2016-10-13
(
#180760
)
A little late to the party, but last week I finally started my compo entry!
Attachment: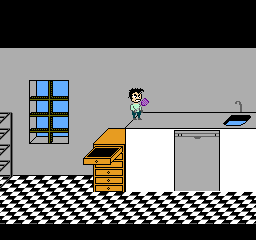 filthy-kitchen.png [ 2.52 KiB | Viewed 12365 times ]
Filthy Kitchen is a side-scrolling platformer about killing flies in your kitchen, while collecting unspoiled food that has been left out. The main mechanic revolves around the fly swatter projectile, which gets thrown forward, then returns back to the player (inspired by Ninja Gaiden's shuriken boomerang). If you can dodge the fly swatter (and enemies and obstacles) you can use its orbital path to kill multiple enemies and rack up combos.
Having already made a
top-down shooter
, and
4-way scrolling puzzler
, I wanted to finally take a stab at an action / platformer. This is also the first time I'm using 8x16 sprites and sprite zero for the HUD.
So far I've got the scrolling engine working with off-screen nametable / attribute updates and collision detection. Up next is the fly swatter weapon and enemies.
Here's a spritesheet!
Attachment: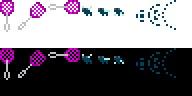 preview.png [ 1.27 KiB | Viewed 12365 times ]